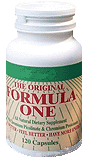 Formula One Herbal Diet Supplement
Supplement Facts
Serving size 1 Caplet
Amount per caplet Daily Value(DV)






Chromium ,49 mcg.............................41% D.V.
(as chromium proteinate and chromium polynicotinate)

     ORIGINAL FORMULA ONE PROPRIETARY THERMOGENIC BLEND


Bitter Orange Extract (Citrus aurantium).....*
     (40 mg naturally-occuring Synephrine)
Kola Nut Concentrate#........................*
Anhdrous Caffeine#...........................*
     #(200 mg naturally-occuring Caffeine)
Ginger Root (Zingiber Officinale)............*
White Willow Bark (Salix Alba)...............*
Troysine (as Ltyrosine)......................*
Banaba Leaf extract (Lagerstroemia Speciosa).*
Ginkgo Biloba leaf...........................*
Bladderwrack Alge (Fucus vesiculosus.........*
Fo-Ti Root (Polygonum multiflora)............*
Hawthorn Berry (Crataegus oxyacntha).........*
Saw Palmetto Berry (Serenoa repens)..........*
Beet Powder (Bete vulga).....................*
Boron (as Boron proteinate)..................*

         * Daily Value not established

Other Ingredients: gelatin Magnesium stearate





Back to Questions
Back to Top
DO's and DONT"s
# Ingredients changes and additions to the Original Formula
Bitter Orange Extract #
Synephrine

- Also known as Zhi Shi (traditional Chinese medicine) it is chemically similar to ephedrine. Synephrine increases metabolic rate, caloric expenditure, and increases energy level. Unlike Ephedrine, Synephrine targets fat tissue and has minimum effect on hemodynamics such as heart rate and blood pressure.*


Kola Nut Concentrate

- Increases metabolism to burn off fat and also helps create Thermogenic effect.


Ginger Root

- Helps increase the availability of dietary nutrients for metabolism and facilitates the utilization of available energy sources. Sooths and cleans the gastrointestinal tract.


Banaba Leaf Extract #

- Good for stomach problems and diabetes, lowers blood sugar and helps the body handle glucose*


Troysine #

- Increases metabolism, fights fatigue, stimulates sluggish Thyroid, helps increase sex drive*


White Willow Bark

- Natural pain reliever. Used with synephrine it is more effective for reversing obesity than synephrine alone.


Ginkgo Biloba Leaf

- Enhances cellular energies, strengthens the heart, helps oxygenate the blood,and improves brain function and memory.


Bladderwrack Alge

- Believed to be the best weight reduction herb available. Can increase the body's ability to burn fat through exercise. Can protect the body against radiation, heart desease, and toxic heavy metals.


Fo-Ti Root

- Used to aid in the removal of cholesterol from the blood. Useful for the kidneys, liver, and heart, protecting them with healthy low-cholesterol blood.


Hawthorn Berry

- Can help reduce high blood pressure and cholesterol. Has an anabolic effect on the metabolic process.


Saw Palmeto Berry

- Can stimulate and improve digestion, assist the thyroid in regulating sexual development, and proper prostate function in men.


Beet Powder

- Can be very beneficial to the liver for removing cholesterol from the blood and improving circulation.


Boron Protienate

- Proven effective for post menopausal women by reducing their loss of calcium, magnesium, and phosphorus. It has remarkable effects on the body in conserving calcium and preventing bone demineralization.


Chromium Proteinate

- A trace mineral that helps reduce body fat and helps increase energy production.

* ref. Supplementwatch.com
IMPORTANT: Read Before Using
Formula One Herbal Diet Supplement is intended as a dietary supplement and should never be abused.
Read and follow label instructions and cautions.
AS WITH ANY DIETARY SUPPLEMENT, SEEK ADVICE FROM A HEALTH CARE PRACTITIONER PRIOR TO USE IF YOU ARE PREGNANT, NURSING, HAVE HIGH BLOOD PRESSURE, HEART OR THYROID DISEASE, DIABETES, DIFFICULTY IN URINATION DUE TO PROSTATE ENLARGEMENT, OR IF TAKING A MAO INHIBITOR OR ANY OTHER PRESCRIPTION DRUG, OR INTEND ON TAKING TO REDUCE WEIGHT. REDUCE IF NERVOUSNESS, TREMOR OR NAUSEA OCCUR. NOT INTENDED FOR USE BY PERSONS UNDER THE AGE OF 18. KEEP OUT OF THE REACH OF CHILDREN.*
SAM National
Independent
Formula One®
Distributor
E-Mail SAM National

Sr Andy Madey

SAM National
111 Anvil Court
Weatherford, Tx. 76088